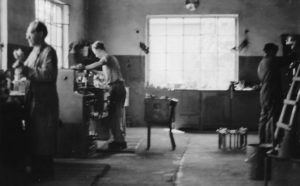 The success story of the family-owned company Heinz Maschinenbau began in the middle of the last century, when master mechanical engineer Johann Heinz quit his engineering, piping and special engine pumping business in Gablonz in the Czech Republic and set out with his family to seek his fortune elsewhere.
In 1948, a small family business started from scratch in Frankfurt am Main: the Johann Heinz Maschinenbau factory. The founder of the company started producing coolant lubricant pumps for the local tooling machine producing companies such as Meuser, taking into account the contemporary standards of engine construction in use at that time.
The customer base expanded rapidly, initially nationally – but in the following years, the company began to deliver pumps to Switzerland and Scandinavia. It was followed by other markets. Consequently the small medium-sized enterprise became a family business with 20 employees.
After the death of the company founder in 1964, his two children, Armin Heinz and Doris Beck, continued to run the business as Armin Heinz Maschinenbau KG. This was followed by expansion and further growth. As the executive chairman of the company, Armin Heinz pushed the development of new products such as the high-pressure pumps, vacuum pumps and pumps for temperature control units.
Heinz Maschinenbau GmbH & Co KG is now run in the third generation with today's Managing Director Patrick Heinz. Today, the family-owned company develops and produces pumps for industrial companies around the world. The portfolio includes industrial pumps from the simple reliable submersible pump to the powerful, robust pump for grinding machines and high-pressure pumps for high-end processes. Providing specific solutions for problems of all kinds of conveying medium is what Heinz Maschinenbau stands for.